It's easy to get caught up with needing new things. New things, better things, and need more. But that can put you into debt and keep you in the poorhouse. But we can use these old fashioned frugal living tips to help us save.
Generations of the past had to get by with little. They knew how to make things last, wear them out, and use it up. Because they had no other option.
Those frugal living tips can help us today too. We can live a happier, simpler and more frugal life when we use these old-fashioned frugal living tips grandma used every day.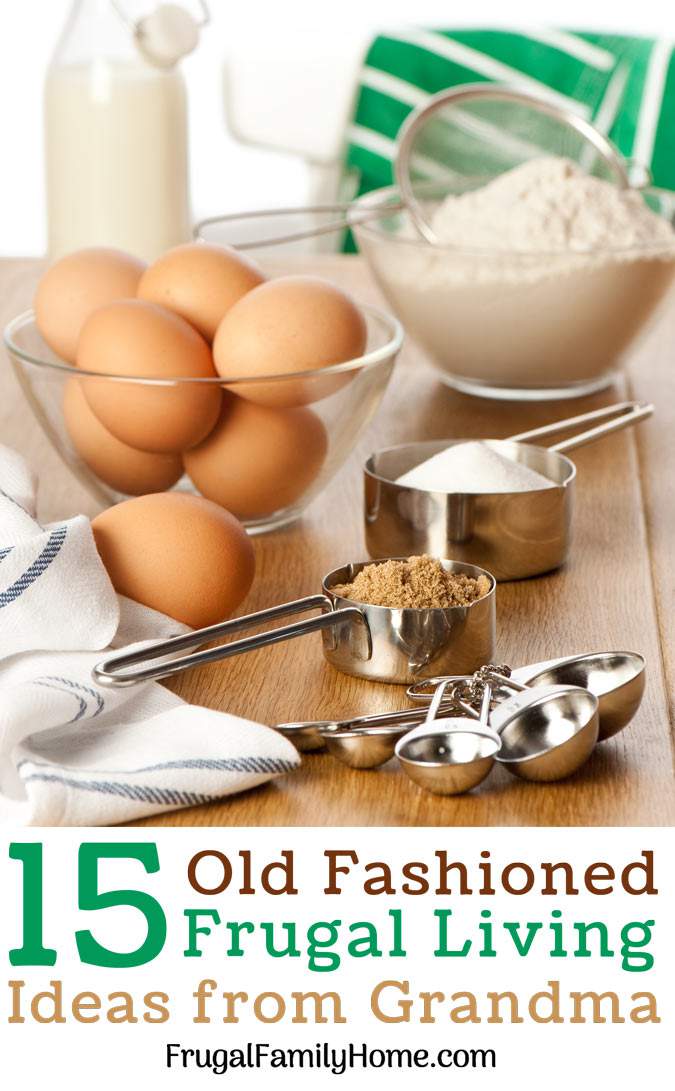 Wanting to be intentional with our money, made me look more to the past. I notice now more than ever more people going back to old-fashioned ways to get by and live a better life on less.
That's what my husband and myself have strived to do. We want to make the most of all we have and looking to our grandparents and great grandparent's generations have helped.
In today's Frugal Family Home podcast, I'm sharing frugal living tips I learned from my grandma and great grandma. Listen below…
Podcast: Play in new window | Download | Embed
Subscribe: Apple Podcasts | RSS
If listening isn't your thing you can read the tips below in the show notes. The show notes don't contain the podcast word for word but it will give you the general tips shared.
Old Fashioned Frugal Living Tips
My great grandma raised 12 kids on a farm and had to get by with what they had. It was hard work be everyone helped and did their jobs.
Now I never got to visit my great grandma's farm when I was growing up, it was long gone and the family had moved away.
But I still learned a great deal of how to live frugally from her. Even though she lived at the time in a small apartment with a small garden area.
She still did many of the things she did on the farm even in that small apartment. So even today even if you live in an apartment you can make these frugal living tips work for you too.
15 Old Fashioned Frugal Living Tips
1. Make Do
So many times we look at a recipe or something we want to make but we don't have what we need. That wasn't a problem for my grandma she knew how to make do with what they had. Substitutions can be made, other items can be added or subtracted to use what you have on hand and make do.
2. Use it Up
Often it seems like that bit left in the bottle isn't worth digging out. My grandma never would waste even a small amount of a product or food item. She would use it up. Because if you don't use what you have you might have to go without.
3. Reuse
Reusing items is old fashioned recycling. My grandma would reuse mayonnaise jars to fill them with food she was canning. She would use empty jars to store buttons off of worn out shirts. Or as storage for bulk food purchases and more.
Old shirts and other clothing items were saved. The buttons were removed, the good pieces of fabric were fashioned into new items, like quilts. And worn out pieces of fabric we used for rags.
Reusing was a way of life and can help you save too.
To get you started…
Try making a pillow out of a T-shirt
Make yarn from a T-shirt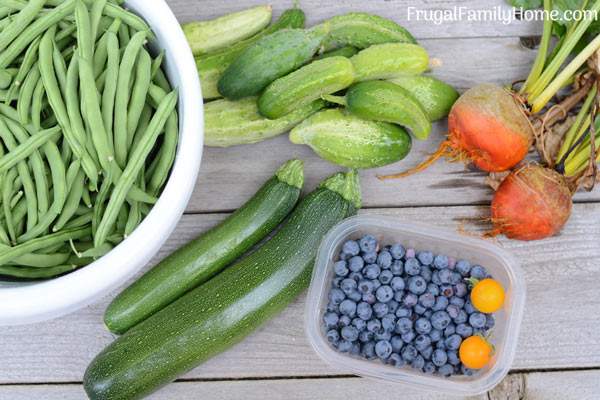 4. Grow Your Own
Even though my great grandma lived in an apartment when I was growing up that didn't stop her from growing her own food in her small garden outside her apartment.
Even if your space is limited, you can grow some of your own food. Things like lettuce, radishes, carrots, tomatoes, zucchini, and even berries can be grown in small spaces.
Growing your own food, even part of it can help you save on your food cost.
Most fruits and vegetables have compact varieties that can be grown in containers if your space is limited or you can't plant in the ground.
If you don't have room to grow look to purchase fruits and vegetables at discount grocery stores or farm stands. Often you can get good deals on boxes of fruit and vegetables from the farm. You can preserve them for later and save money too.
Also look for gleaning groups in your area.
If you find one you can join the gleaning group and volunteer to work for a few hours and take home fruits and vegetables in exchange. We have a program near us. Look around and see if you can find one too.
Need to learn to grow your own food at home check out these gardening guides and tips.
Some of the links in this article are my referral links. When you purchase through them, I can make a little money at no extra cost to you. See my disclosure policy for more information.
5. Preserve for Later
If you grow your own food preserving it for later can help you stretch the time, you have to consume what you grow, or what you find on sale.
Drying, freezing or canning food can expand how long you can keep produce you grow or find on sale.
If you want to learn to can and dry foods, you can find articles on drying foods and more by looking over our food preservation recipes. Many have video tutorial too.
My favorite food preserving book at Amazon.
6. Bake Your Own
I'm constantly shocked at how much baked items cost at the store. Baking bread, rolls, muffins, and biscuits can be done at home for a fraction of what they cost at the store.
Bread can be made at home for under $1 a loaf. I was shocked to see canned biscuits are over $1 a can for just 8 little biscuits. You can make biscuits at home fresh so easily and so much cheaper too.
Learn to bake your own and save. You can find many easy baking recipes and video tutorials below to get you started.
If you need recipes to get you started, I have tutorials on
How to Bake Bread
Frugal White Bread Recipe
How to Make French Bread
How to Make Biscuits
Apple Muffins, Banana Muffins
How to make Pie Crust
Homemade Baked Donuts
Homemade Baked Maple Bars
Banana Bread
Chocolate Zucchini Bread
Plus see all our baking recipes here.
7. Make Your Own
Taking a few minutes to make your own products can save over the cost of purchasing the items from the store. Making your own body wash, lotion bars, lip balms, laundry soap and more can help to save you money.
Find tutorials on…
DIY Laundry Soap for pennies a load
Easy Lotion Bars that work great and are all natural
Homemade Body Wash for the Cost of a Bar of Soap
Honey Lip Balm
Raspberry Lip Balm
Sugar Scrub, Mint and Rose
See all the DIY projects here.
8. Have a Well-Stocked Pantry
Having inexpensive foods on hand can help to make inexpensive meals. When you have a well-stocked frugal pantry, you can make meals for less. Don't know what to stock in your frugal pantry? No problem here's the top 25 items I keep on hand in my pantry.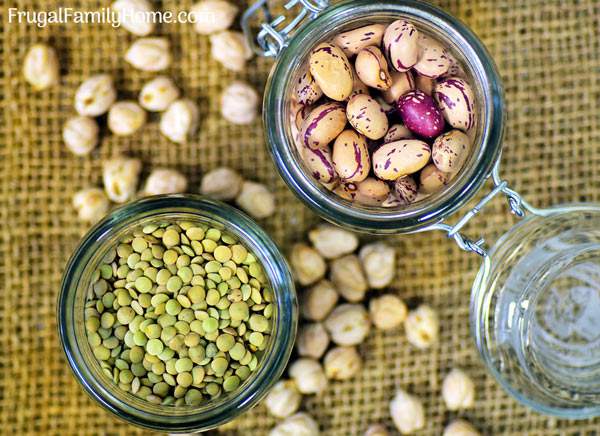 9. Use Dry Beans
It's easy to grab a can off the shelf at the store. But one can cost the same as one pound of dried beans.
Cooking dried beans can be as easy as washing, placing them in the slow cooker, cover with water, and cook until tender.
You'll get 4-5 times the amount of beans for the same price as one can of beans.
Don't want to eat beans for a week, no problem freeze the extra beans for later. Place the cooked beans in a zipper freezer bag with a little of the cooking water. Freeze until ready to use.
It's that simple. You'll have cooked beans on hand for about one fourth the price of canned.
10. Make Your Own Groceries
From bone stock to seasoning mixes you can make your own groceries and save. Seasoning mixes are expensive and they are easy to make.
Save even more by purchasing the spices and herbs in the bulk food section of the store.
Use bones from chicken and beef to make your own stock. It's thicker than store bought and so easy to make in the crockpot too.
See a full list of 35 groceries you can make at home instead of buying them here.
11. Live in a Smaller Home
My great grandma raised 12 kids in what we would consider a starter home of today. The kids shared rooms with siblings. It's just how it was to make room for everyone.
My grandparents raised two kids in a 900 square foot house. They did not need to downsize when they retired because the house was just right. They lived in that home for over 50 years.
We live in what most would consider a starter home. But I have no desire to move up to a bigger home. A bigger home comes with more to maintain. More to clean. And more to break. It comes with more taxes, more cost to acquire too.
Making do in a just big enough home can help you save on utilities, on heating and cooling costs. And on maintenance too.
12. Drink Water
Drinking empty calories is not good for your waistline but it's also not good for your wallet. At each meal instead of fruit juice or milk serve water. If you must have something besides water to drink, serve a small glass about 4 ounces and a large glass of water too.
It will cut cost and keep calories down too. If you really dislike the taste of water give these scented cups a try, they make the water taste like the scents.
13. Skip Paper Products
Paper towels and paper napkins can be costly. Use cloth napkins and cloth rags in place of the paper ones. If you purchase the fabric and make them yourself, they can be inexpensive.
14. Value Relationships More than Material Possessions
These last two frugal living tips that my grandma gave me are the most important.
My great grandma didn't have a lot of material possessions. She said she didn't need them.
But she was always ready to share and give what she had. Grandma would share her knowledge of gardening with her neighbors. She would share her home-cooked meals. Grandma shared her knowledge of cooking and baking with those who wanted to learn.
She put much more value on people than things. The things we can't touch are the most precious possession we have and we have to be willing to share them with others.
15. Be Content
In this busy world of ours, it's easy to get caught up in the new best thing, the new big thing, instead of being content with what we have.
I think being content is the most valuable lesson we can learn. I know it's hard in our busy world full of distractions but when we are content, we can truly be happy and be intentional with our time, our money and our life.
Because all the world's distractions can fall away and lose their allure when we are content.
Those 15 Old fashioned frugal living tips that grandma used to save every day are still relevant. The things she did to save money and to stretch what she had are still things we can do, to save money too.
What one old-fashioned frugal living tip do you use today to save? Maybe it's one above or something different. I would love to hear what you do too. Scroll down and share your own frugal living tip below!
Pin it for Later…