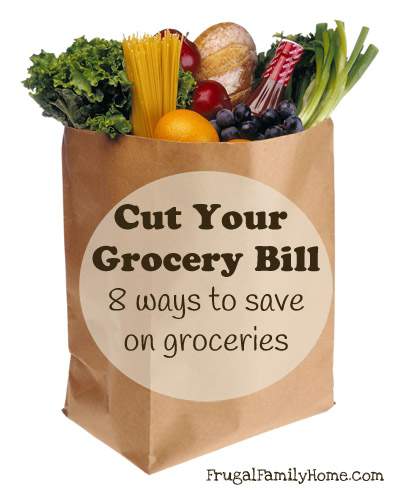 Image Credit: Microsoft Images
If you've made a New Years Resolution to spend less in 2013 a good way to start is to reduce your food budget. Everyone has to eat so why not make a few changes to save money on the food you eat. If you eat out more than once a week you can really save big by eating at home and shopping the right way.
Here are a few tips to get you on your way to saving each month on your food.
 Make a plan
If you don't have a plan for what you will eat chances are you won't have what you need to prepare the meal. If you haven't meal planned before I would suggest picking some of your family's favorite easy to prepare meals and planning them for the first week for dinner. If you need help getting started with menu planning here is my menu planning post.
Choose Easy Meals to Make
You don't have to make a gourmet meal at home.(unless you have the time and want to) To make sure you eat at home more to save the most money be sure to plan meals that are quick and easy to make. If you have a crock pot get some free crock pot books from Amazon Kindle list. (you can read them on your computer, you don't even need a Kindle) Choose things like tacos or burritos, baked potato bar, chili with cornbread muffins. If don't like to cook pick up the canned chili at the store and some muffins even if you don't make them yourself you will still save over going out to eat.
Automate some of your Meals
What I mean by automate is pick some of your family's favorite meals for breakfast, lunch and dinner and make sure to have those ingredients on hand. Purchase those ingredients so you always have them in your pantry at the best prices. Meaning when you see them on sale stock up. Some of our automated meals are bean and beef burritos, chili and cornbread, pork chops, Quiche, pancakes, oatmeal, eggs and sausage, waffles, muffins, corn dog muffins, spaghetti and meatballs, just to give you some ideas.
Stock Up When Items are on Sale
Once you have your automated meals picked out you can make sure you have all the ingredients for those meals. The best way to keep your pantry and freezer stocked with the basics item you need is to stock up when prices are their lowest. If you see a good sale on eggs don't purchase just enough for that week but maybe enough for three to four weeks. Check the sell by date and use that as your guide to how many to purchase. I purchase as much ground beef as I can when I can get it for $2.49 a pound or less. Beef roast I will purchase at $2.99 per pound, pork tenderloin at $1.99/lb, boneless skinless chicken breast at $1.99 or less, just to give you some ideas on price. Prices in your area may be higher or lower so just watch the sales and buy when you notice the price has dropped. The best way to price track is to set up a price book.
Find a Local Discount Store
In my area we have quite a few discount grocery stores. So I am really spoiled in this area. Be sure to check in your area for discount stores too. I have a Franz Bread store which sells fresh bread at grocery store prices but they also have day old bread (meaning it is close to the pull date) at discount prices. I can get organic whole wheat bread for just $.80 a loaf if I shop their weekly sale on Saturdays.
Grocery Outlet is a good discount grocery store and they are in many different areas across the US. We also have a local store called Everyday Deals here. They deal in closeout groceries. Their prices are really good, such as head lettuce $1/4, apples $.39/lb, broccoli $.39/lb and asparagus for $.39/lb. Much better than the local grocery store but you will have to pick through to get the best ones. They also have frozen items and boxed items too. Chances are you will be able to find a discount grocery store or bread store in your area.
Give Freezer Cooking or Pantry Cooking a Try
To get started with freezer cooking,  you can make a double batch of a dish your family likes and add the extra to the freezer for those times you just don't feel like cooking or the day has just not gone as planned. Freezer cooking doesn't have to be a one day cooking session. I do much of my freezer meal prep in bulk batches to stock my freezer with the start of a meal, such as cut up meat or marinated meats or extras of baked items such as pancakes, muffins, waffles or rolls.
Some ideas are pancakes, waffles and muffins, make a double batch and store the rest for those morning you are in a rush just heat in the microwave or pop into the toaster and they are done in under a minute and so much less expensive than the store-bought one.
Marinate meat in the freezer by adding the sauce to the raw meat. Then freeze when you are ready to make the meat thaw and it will marinate while it is thawing. Any meat item  you need to marinate should work really well this way. I will make BBQ chicken by placing the raw chicken in a freezer bag and add the BBQ sauce over top, then freeze. I will thaw it and then bake in the over with the sauce on it or put it into the crock pot and cook it that way.
You might be wondering what is pantry cooking? Well that is what I call making my own mixes. I have found that most baking recipes can be made into a mix. Just add all the dry ingredients and mix well. I store mine in zipper bags and write the instructions on what to add and how to bake the item on the bag itself. Here are some of my family's favorite recipes you can give a try or use your own favorite ones.
Here are a few Freezer and Pantry Recipes
Oatmeal Packages
Muffin Packages
Baking Mix
Pizza Dough for the Freezer
Chicken Pot Pie for the Freezer
Italian Chicken
Beef and Bean Burritos
Corn Dog Muffins
Mini Lasagna
Know how much you can save by eating at home
I did some checking on a few items I can make at home and how much it would cost for me to purchase those meals out. These are meals  I can easily make at home and I was really surprised how much I could save.
I compared eating tacos at home with a fast food restaurant and a sit down restaurant. By making tacos at home I found I could save $1 a person over fast food and $4-6 per person over the sit down restaurant. I also found by making one pizza a week at home instead of picking it up at the local take and bake chain I could save $209 a year.
Once I found we could save quite a bit in a year with just making our own pizza we have not purchased the pizza out since. When you know how much extra it will really cost your family to eat out you will be able to decide if it is really worth the extra cost. If you need help in know how to figure out your price per meal check out this post.
 Take your time reducing your food budget
All of these tips above will help you to save on your grocery bill, but if you try to implement each of these suggestions right away you could end up overwhelmed,  discouraged and give up. If you currently don't meal plan start with that first. Once you are feeling confident with menu planning, then try to stock up on the items you need for your automated meals. Then when you are comfortable with both of those add another. Soon you will be saving quite a bit and the change will be gradual you won't be overwhelmed with so many changes at one time.
What have you found that really helps you save on groceries?
[signoff]
Be sure to sign up for free updates by email or follow me on Facebook, Twitter, Pinterest and Google +